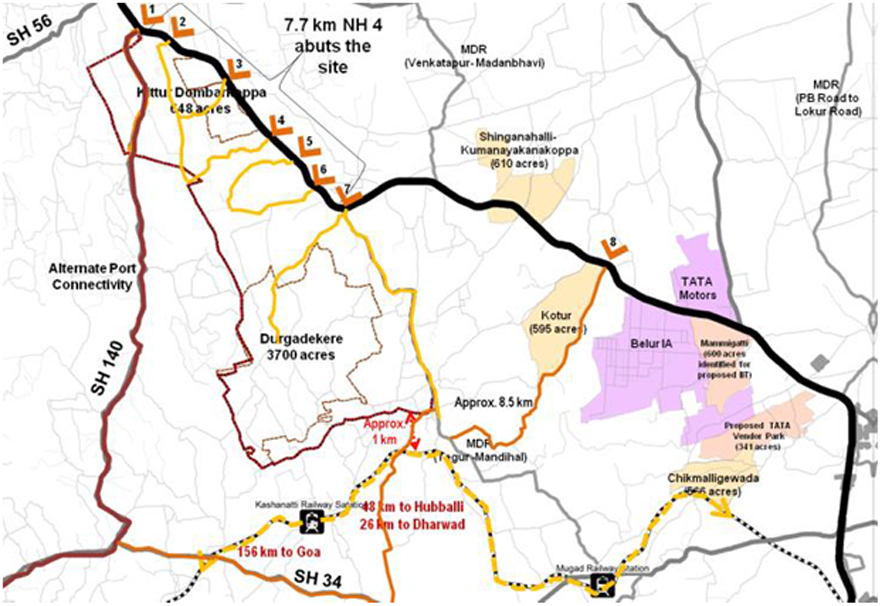 Dharwad Industrial Area in Karnataka is being developed as a Greenfield Industrial Node as part of Bengaluru Mumbai Industrial Corridor (BMIC) which have an influence area spread across the states of Karnataka and Maharashtra, covering an overall length of about 1,000 km along NH 4 and other major infrastructure networks like, Dabhol – Bengaluru Gas pipeline and Bengaluru- Mumbai Rail line via Chitradurga, Hubballi, Belagavi, Sangli, Satara and Pune.
The proposed industrial area node in Dharwad with an area of 6,042 acres is located at Durgadakeri- Kittur-Dombarkoppa villages, around 23 km north-west of Dharwad city and around 10 km north west of Belur Industrial area, on NH 4, bordering both Dharwad and Belagavi districts in the State of Karnataka.
The site is well connected to Dharwad (21 km), Hubballi (42 km) and Belagavi (45km) through NH 4, it is also well connected to other parts of the State and other important destinations through various state highways and rail connectivity.
The node is well connected to Mormugao port (156 km through SH 34, 157 km by rail), which is the nearest major port, Belekere (186 km through NH 4 and NH 63, 204 km by rail) and Karwar (206 km through NH 4 and NH 63, 190 km by rail). Alternate connectivity to Karwar and Belekere, through SH 140, which bypasses the NH 4 traffic and traffic due to Dharwad and Hubballi cities is also assessed. The proposed node location is also well connected to the nearest ICD at Desur (50 km) located in the Belagavi district.
The consultant has been appointed for the preparation of a detailed master plan and preliminary design report for roads and services/utilities.