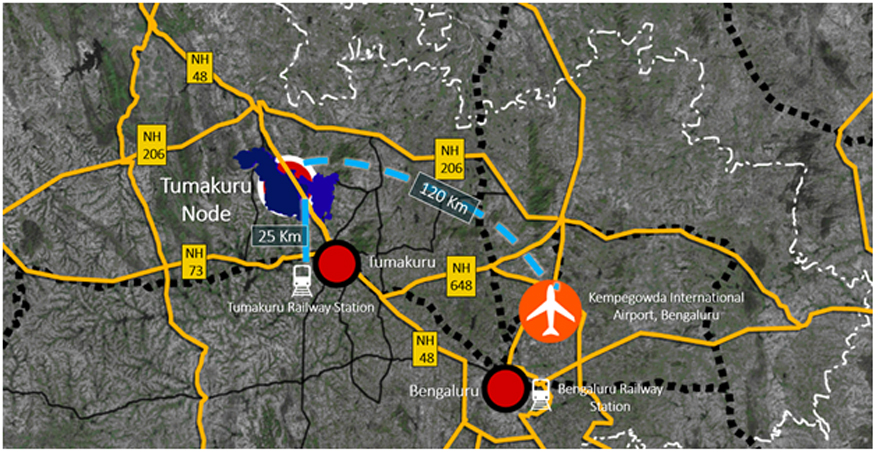 Tumakuru node identified as priority node in the state of Karnataka under Chennai Bengaluru Industrial Corridor (CBIC).
Tumakuru Node is located in the north at about 120 km from Bengaluru and 20 km from Tumakuru city along National Highway 48. Bengaluru International airport is located about 120 km from the airport. The site is regionally well connected due to the presence of adjacent 6 Lane National Highway (NH 48), developed airport and railway stations in proximity. Tumakuru railway station is located only 25 km away from the site connected via NH 48 and the urban roads of Tumakuru town.
The site has been notified in 6 phases. The first three phases of the site lie on the east of the NH 48 and phase A to C mostly lie on the west of the NH 48 besides about 500 acres of phase C on the eastern side of the road. Vasanthanarasapura Industrial Area is established in the first three phases and several notable industries are already functioning in this part. Phase A, B and C are greenfield areas that will be planned and engineered into a world-class industrial development. The site for Tumakuru Node covers 15 villages with an overall area of 8484 acres.
Cabinet Committee on Economic Affairs (CCEA) under the chairmanship of Hon'ble Prime Minister has approved the project proposals for the construction of various trunk infrastructure components in Phase A start-up area of Tumakuru Industrial Area (1,736.2 acres) with an estimated cost of the project of Rs. Rs. 1,701.81 crore.
EPC Tender for Phase 1 activation area has been issued. A Project Management Consultant (PMC) has also been appointed.