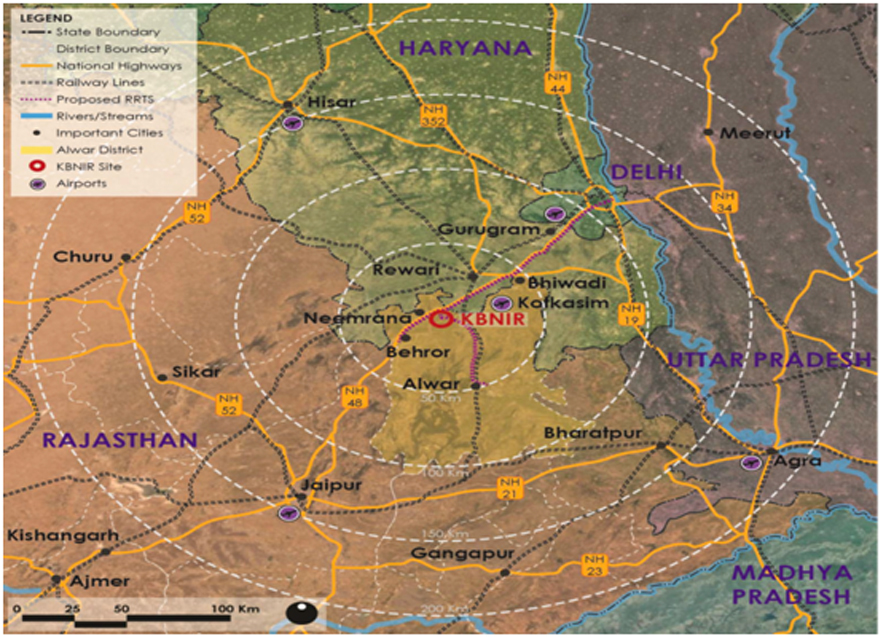 Khuskheda Bhiwadi Neemrana Investment Region (KBNIR) was visualised as a key Investment Region (IR) in the state of Rajasthan under the influence region of Delhi Mumbai Industrial Corridor (DMIC). KBNIR has manifold significance, for the Government of India, State Government of Rajasthan, National Industrial Corridor Development Corporation (NICDC) and Rajasthan State Industrial Development and Investment Corporation Limited (RIICO), especially due to its strategic location at the Haryana and Rajasthan, off the national highway NH 48 and a terminal node of the Shahjahanpur-Neemrana-Behror (SNB) Urban Complex being developed under Rajasthan state government.
The KBNIR Phase 1 project area of 558 hectares is spread across a greenfield site in Mandawar Tehsil, in Alwar district, Rajasthan and adjacent to three villages lying close to Delhi-Jaipur Expressway or NH 48. The KBNIR Phase 1 is part of the notified area of the SNB Urban complex under Neemrana Master Plan-2041. KBNIR is the northern-most DMIC node in the state of Rajasthan located within 50 km from the proposed Western Dedicated Freight Corridor alignment, about 107 km from Delhi and 147 km from Jaipur respectively. The district headquarters (Alwar) is located 70 km southwest of KBNIR. The site is very well connected to major urban centers in Delhi-NCR through NH 48 and railways and has proximity to Indira Gandhi International Airport in Delhi.

Consultants have been appointed for the preparation of a detailed master plan and preliminary engineering of KBNIR Phase 1 of 658 Ha.